Started way back in 1946, the National School Lunch Program (NSLP) provides free or reduced-price lunches to schoolchildren in American working families. The reach of this program is huge – in 2019, 29.6 million children received a free or reduced lunch every school day [1].
In this article we'll cover everything you need to know about the NSLP, from eligibility requirements, to how to apply, to what happens when your child is not at school. Because we're a company that's rethinking the American safety net (Hi! We're Comity!), we'll also provide some thoughts at the end around improvements we hope to make to government benefits – NSLP included. Let's dive in.
The Free and Reduced Lunch Program (also known as the National School Lunch Program or NSLP)
At the beginning of every school year, your child's school will send home an application or form for you to fill out for your child to receive free or reduced lunch. If your family already receives SNAP benefits (for more on SNAP, see our deep dive SNAP Benefits 101) or TANF (Temporary Assistance for Needy Families) benefits, your child will often automatically qualify for free lunch, with no paperwork needed. However, states and school districts may vary from place to place, so we always recommend checking with your district.
If you miss the enrollment period in the beginning of the school year or your circumstances change, don't worry. You can ask for an application for free or reduced lunch for your child at any time during the school year by asking the school and/or school district directly [2].
And despite being known as the "Free Lunch Program," the NSLP often provides breakfast and snacks, as well as lunch to schoolchildren.
Free and reduced lunch application and eligibility
School age children with families who receive SNAP or TANF benefits are automatically enrolled into the free lunch program. Everyone else is subject to income requirements to qualify.
Free lunch. Children in families who are at or below 130% of the poverty level, or who are on SNAP or TANF benefits, qualify for free lunch
Reduced lunch. Children in families who are at or below 130 - 185% of the poverty level qualify for reduced price lunch (and the maximum price of a meal is 40 cents) [3]
Use the chart below to compare your family's monthly income to see whether your child qualifies for free or reduced lunch (this chart is for the 2022 - 2023 school year). And as long as your child is enrolled in school there are no age requirements for free and reduced lunch.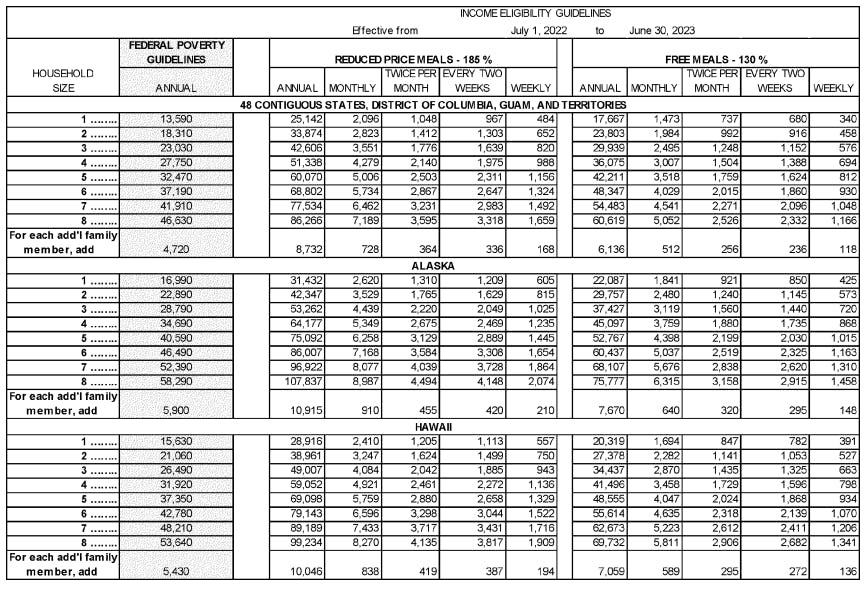 To apply for free or reduced school lunch, we recommend contacting your child's school directly. Don't be worried if it's the middle of the school year – you can apply for free or reduced lunch at any time.
What about summer and vacations?
Many families who rely on the NSLP may be worried about their children's nutrition when school is closed, like during school vacations or summer break. But even when schools are closed, the USDA (the agency that administers the NSLP) provides meals for eligible children (ages 18 and younger) through their ​​Summer Food Service Program. 
Instead of receiving meals through schools, the Summer Food Service Program works with community sites to create safe and convenient centers for meal pickup. These sites can include any open schools, parks, community centers, hospitals, apartment complexes, churches, etc. [4].
You can look for a Summer Food Service site in your neighborhood using the USDA's search tool.
Comity's Take on Free and Reduced Lunch
Here at Comity, we're on a mission to modernize America's safety net. We think there's a better way to support working people in America, and we're building towards a world where every working person has the support they need to navigate life's inevitable challenges.
Our first product is Comity Advance Tax Credits– an extra $500 in your pocket for eligible working Americans to spend on the things you and your family need (read more here). We think government benefits like NSLP need an overhaul, too. We're hard at work rethinking how Americans can access benefits – if you have insight, feedback, or a story you'd like to share, we're all ears. Reach out at members@comitycard.com and let's work together on modernizing America's safety net.
Sources Cited
Source 1: USDA, National School Lunch Program.
Source 2: USDA, Applying for Free and Reduced Price School Meals.
Source 3: Youth.gov, Learn the Facts: National School Lunch Program and Alternative Schools.
Source 4: USDA, How To Participate in Summer Meals.