In this article, we'll go through everything you need to know about the Earned Income Tax Credit. We'll cover the basics – as well as the not-so-basics! – of the Earned Income Tax Credit, as well as commonly asked questions like eligibility requirements and how to calculate your Earned Income Tax Credit. We'll also go through how you can access your credit early through Advance Tax Credits.

Wikipedia's IRS Logo for EITC found here.
What is the Earned Income Tax Credit?
The Earned Income Tax Credit, also known as EIC or EITC, is a cash grant paid at tax time by the federal government. The EITC exists to help working Americans – especially those with children. It's a powerful tool to help drive incomes up and lift working people and their children. The Brookings Institute calls the EITC "the country's largest and most successful anti-poverty program," [1] while Warren Buffet has said the "Earned income tax credit is the best way to put money in people's pockets" [2].
Your EITC Stat Sheet:
The EITC is the federal government's largest cash assistance program for low income Americans, paid out at tax time [3]
The program dates back to 1975 [4]
The EITC was recently expanded under the pandemic relief American Rescue Plan of 2021 [5]
The EITC is a powerful benefit for qualifying Americans – yet many working people are unaware of its existence or don't know how to claim it. United Way estimates that 1 in 5 of those who are eligible do not get the credit [6]. And understanding the US Tax Code is tricky (after all, filing your taxes is something that very few people enjoy doing). That's why we're here – at Comity we dive deep into the details of the tax code, government benefits, and other programs for working Americans to make it easy for you to get the money you're eligible for. Ready to get into it?
How does the Earned Income Tax Credit (EITC) work?
The EITC is paid out at tax time. It is calculated based on your filing status (are you married or single), how much income you have, and how many children you have. There are also age and income requirements.
Do I qualify for the EITC?
According to the basic qualifying rules from the IRS, you may qualify for the EITC if:
You make under $57,414 per year
You have investment income below $10,000 in this tax year
You have (or will have, by the tax due date of this year) a social security number
You are a US Citizen or a resident alien for the entire tax year
You do not have any foreign-earned income
You are over the age of 19 (this is new for 2021) [7]
→ We dive into much more detail around eligibility for the EITC in our article Am I Eligible for the EITC?
Here's how receiving the EITC works:
You file your taxes before Tax Day (the exact date changes every year, but is in mid-April)
If you owe taxes, the government will first pay itself with your EITC. After paying off any taxes you owe, the remaining EITC is sent to you in your tax refund. If you don't owe any taxes you'll receive the full EITC amount.
The EITC is not considered income. It does not affect your eligibility for food stamps or other federal and state programs. And even better – you don't have to repay the money that you receive from your EITC!
The main takeaway: You probably qualify for the EITC if you make less than $45,000 per year and have children.
Don't want to wait until April to receive your EITC? Skip ahead to the "What do I need to do to get my Advance Tax Credit payment?" section to learn about how Comity (that's us!) can help with a predictable monthly income from your EITC – today.
Comity Inc. Copyright 2021.
EITC Calculator
Here at Comity we can help you calculate what your end of year tax return and EITC amount is going to be. Get started with the 1 minute Comity application today.
How much money can I get from the EITC?
On average, eligible parents receive about $4,000 in EITC per year. If you don't have children, you may be eligible for up to $1,502 per year.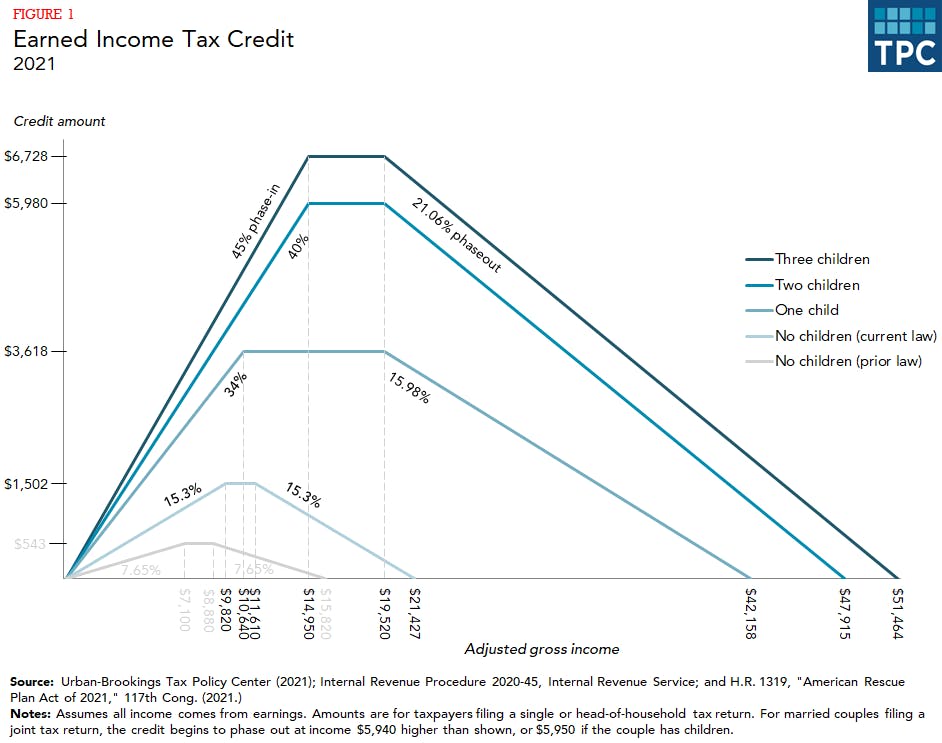 Urban-Brookings' Tax Policy Center et al. graph found here.
What do I need to do to get my Advance Tax Credit payment?
Traditionally, you would need to claim your EITC when you file your taxes. After that, you usually have to wait several weeks to get your money – which is included in your government tax refund.
The good news is that Comity is making it easier to claim and access your EITC. With the Comity app, you can get up to $500 per month, from your EITC. We're taking the money that you're already eligible for during tax time but making it easier for you to access now, and spend on the items that you and your family need. The money goes into a card that you can use like any other debit or credit card. Comity charges no interest – just a flat 3.75% fee on your spending every month (for most Comity members, that's $10 or less each month).
To download our app and get your Advance Tax Credits, complete your 1 minute Comity application here.
Sources Cited
Source 1: The Brookings Institution, Economic Recovery and the EITC: Expanding the Earned Income Tax Credit to Benefit Families and Places.
Source 2: Catherine Clifford, CNBC, Warren Buffett: This is the best way to put cash in the pockets of people who need it.
Source 3: Tax Policy Center, What is the earned income tax credit?
Source 4: IRS, Looking ahead: How the American Rescue Plan affects 2021 taxes, part 1.
Source 5: IRS, Looking ahead: How the American Rescue Plan affects 2021 taxes, part 1.
Source 6: IRS, EITC Fast Facts.
Source 7: IRS, Who Qualifies for the Earned Income Tax Credit (EITC).