Every year as we get closer and closer to mid-April you'll start hearing more about tax season, filing your taxes, and your tax return. Filing your taxes can be a confusing process, but the tax credits within your tax refund can be a powerful tool for lifting up working families – if you know what credits to file for. In this article we'll go through what a standard tax return looks like, as well as some tax credits you should know about.
What does a tax return include?
To file your taxes you'll fill out Form 1040, via the IRS. You can either file your taxes on your own, or work with a professional tax preparer or tax filing company to file it for you.
→ Did you know that Comity (Hi! That's us!) will arrange tax prep for you to file your taxes for free? You can learn more about this service here.
In Form 1040 you'll report information like:
Personal info like address and social security number
Income from the previous year (from full time jobs, gig roles, and other income streams)
Any dependents (most often your children)
Benefits like social security, child tax credits, and other credits (we'll cover this in much more detail below)
Banking information like your routing and account numbers to receive a direct deposit for your tax refund (or you can opt to get a check mailed to you).
After you've filled out your tax return and submitted it to the IRS (either electronically or through the mail) the IRS will process your return and may issue you a tax refund. A tax refund is money that comes back to you from the government (if you qualify for tax credits), or if you've paid more in income taxes than you need to. You generally receive your tax refund within 21 days of filing [1]. You can also check the status of your refund through the IRS Refund Status tool.
Example 1040 form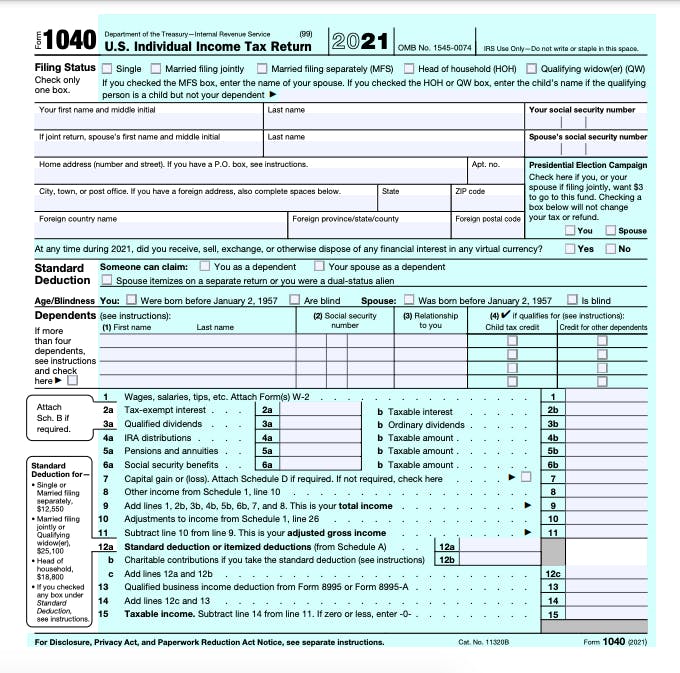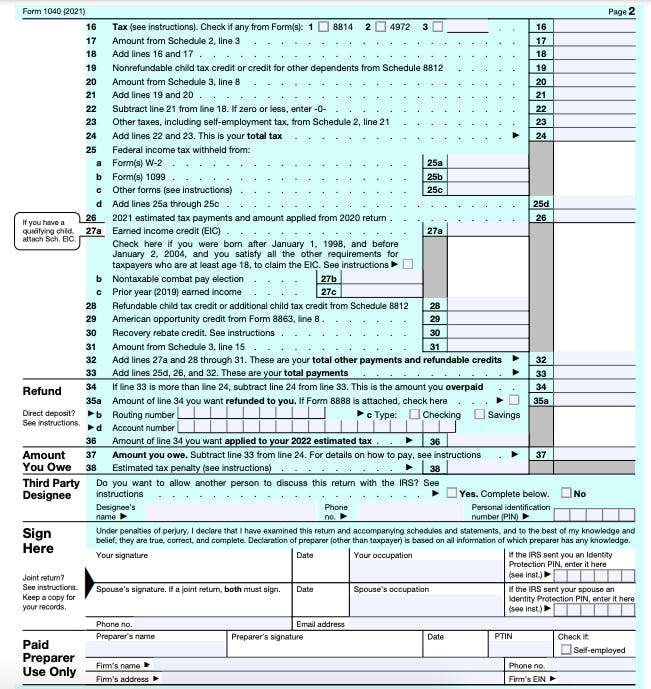 What tax credits should I know about?
Tax credits are cash grants paid at tax time by the federal government to help increase the wages of certain groups of Americans. You can claim tax credits that you are eligible for, which will help increase the size of your tax refund. Many people choose to work with a professional tax preparer due to their knowledge of tax credits and eligibility. At Comity, we work with a network of tax preparers who specifically focus on tax credits for working Americans, helping you maximize your deductions and your tax return – read more here.
Common (and less common) tax credits
Note that all of these credits may have income levels and other eligibility requirements, and some of these credits may only be claimed if you use the itemized deduction method of filing ( source 2 here). To better understand whether you're eligible for a specific credit you can consult with the IRS or your tax preparer. While we cannot give you personal tax advice, our team here at Comity is always happy to answer questions to the best of our ability –  email us at members@comitycard.com with questions. Use this as a guide to understand where to start, then consult your preferred tax resource for next steps!
Common Tax Credits
Earned Income Tax Credit. The largest federal cash assistance program for working families. While some people without children can qualify for the EITC, this is most commonly claimed by people with children.
→ Read more on the EITC here.
Child Tax Credit. For the 2021 tax year, you can claim up to $3,600 for children ages 5 and under and up to $3,000 for children ages 6 through 17 [3].
Child and Dependent Care Credit Tax Credit. This credit exists to help you care for any dependents, including children. Dependents include children under the age of 13, a spouse who is dependent on you for either physical or mental reasons (and lives with you for 6+ months of the year), or another person who is dependent on you for either physical or mental reasons (and lives with you for 6+ months of the year) – often an elderly parent. You can claim up to $4,000 for 1 child or dependent, and up to $8,000 for 2 or more children and/or dependents [4].
Less Common Credits
Adoption Credit. This credit only applies once for each adopted child. In 2021, the credit is up to $14,400 for eligible expenses. If you adopted a child with special needs, you can claim the full credit even if you didn't have any expenses [5].
Student Loan Interest. If you paid interest on your student loans in 2021, the maximum deduction that can be claimed is $2,500 [6].
American Opportunity Tax Credit. This credit is available for the first four years of higher education tuition for each eligible student. The maximum annual credit is $2,500 and some of it can be related to qualified education expenses [7].
Lifetime Learning Credit. This credit is available for people taking classes at eligible higher education institutions such as community colleges and universities, as well as eligible job training programs and courses.There is no limit on the number of years you can claim this credit, but there is a $2,000 cap per year. This credit cannot be claimed with the AOTC [8].
Medical and Dental Expenses. You can claim up to 16 cents per mile for driving to and from medical and dental appointments [9]. Depending on your Adjusted Gross Income (AGI), you may also be able to claim other medical and dental expenses that exceed 7.5% of your adjusted gross income [10].
Saver's Credit. This credit applies to contributions made to your retirement plan and/or IRA. Depending on your AGI, you may not be able to claim this if you were a student in any of the previous 5 months of the tax year [11].
HSA Contributions. You can claim HSA contributions. The amount depends on your plan, age, and other factors [12].
Home Mortgage Interest. This credit is limited to the interest paid on up to $750,000 of any mortgage debt you incurred after December 15, 2017. Other property taxes and deductions can also be claimed [13].
SALT. You can deduct real estate and personal property taxes as well as state and local taxes, or general sales taxes [14].
Residential Energy Credit. You may qualify for this credit if you made updates to your home such as installing solar panels, insulating your windows and doors, or upgrading your roof [15].
Charitable Donations. You may be able to claim donations made to charities. Traditionally, this is only available when using the itemized method. However, taxpayers in 2020 were allowed to claim up to $300 regardless of which method they used [16].
Gambling Winnings and Losses. All gambling winnings need to be reported as "other income" on your tax return. This credit allows you to claim any money that you lost from gambling, up to the total amount that you won from gambling [17].
Home Office Expenses. If you run a business and your home office is the primary place where you conduct business, you may be eligible for this credit. This credit does not apply if you are an employee working remotely [18].
Can I get my tax refund now?
Here at Comity we make it easier to claim and access your tax return – today. With the Comity app, you can get up to $500 per month, from your Earned Income Tax Credit. We're taking the money that you're already eligible for during tax time but making it easier for you to access now, and spend on the items that you and your family need. The money goes into a card that you can use like any other debit or credit card. Comity charges no interest – just a flat 3.75% fee on your spending every month (for most Comity members, that's $10 or less each month).
Sources Cited
Source 1: IRS, Tax Season Refund Frequently Asked Questions.
Source 2: IRS, Things taxpayers should know when choosing between standard and itemized deductions.
Source 3: IRS, 2021 Child Tax Credit and Advance Child Tax Credit Payments — Topic C: Calculation of the 2021 Child Tax Credit.
Source 4: IRS, Child and Dependent Care Credit FAQs.
Source 5: IRS, Topic No. 607 Adoption Credit and Adoption Assistance Programs.
Source 6: IRS, Topic No. 456 Student Loan Interest Deduction.
Source 7: IRS, American Opportunity Tax Credit.
Source 8: IRS, Lifetime Learning Credit.
Source 9: IRS, IRS issues standard mileage rates for 2021.
Source 10: IRS, Topic No. 502 Medical and Dental Expenses.
Source 11: IRS, Retirement Savings Contributions Credit (Saver's Credit).
Source 12: IRS, Publication 969 (2021), Health Savings Accounts and Other Tax-Favored Health Plans.
Source 13: IRS, Publication 936 (2021), Home Mortgage Interest Deduction.
Source 14: IRS, Topic No. 503 Deductible Taxes.
Source 15: IRS, Energy Incentives for Individuals: Residential Property Updated Questions and Answers.
Source 16: IRS, Charitable Contribution Deductions.
Source 17: IRS, Topic No. 419 Gambling Income and Losses.
Source 18: IRS, Home Office Deduction.